---
Faithful husband, soccer dad, basset owner, and former cowboy
Return to TboggHomePage
---
FELLOW TRAITORS
*The Nether-Count*
100 Monkeys Typing
Ain't No Bad Dude
Alicublog
Americablog
American Leftist
Attytood (Will Bunch)
Bad Attitudes
Balloon Juice
Better Inhale Deeply
Bitch Ph.D
Bloggy
Bob Harris
Brilliant At Breakfast
BusyBusyBusy
Byzantium's Shores
Creek Running North
Crooked Timber
Crooks and Liars
Cursor
Daily Kos
Dependable Renegade
David Ehrenstein
Democratic Veteran
Dohiyi Mir
Down With Tyranny
Echidne of the Snakes
Edicts of Nancy
Elayne Riggs
Eschaton (Atrios)
Ezra Klein
Failure Is Impossible
Feministe
Feministing
Firedoglake
First Draft
Freewayblogger
The Garance
The Group News Blog
Guano Island
Hairy Fish Nuts
Hammer of the Blogs
Hullabaloo(Digby)
I Am TRex
If I Ran the Zoo
I'm Not One To Blog
Interesting Times
James Wolcott
Jesus' General
Jon Swift
Juan Cole
King of Zembla
Kung Fu Monkey
Lance Mannion
Lawyers Guns and Money
Lean Left
Liberal Oasis
Main & Central
Majikthise
Making Light (Nielsen Hayden)
Mark Kleiman
Martini Revolution
MaxSpeak
MF Blog
MyDD
Needlenose
The Next Hurrah
Nitpicker
No More Mr. Nice Blog
Norbizness
Norwegianity
Oliver Willis
One Good Move
Orcinus
Pacific Views
Pam's House Blend
Pandagon
Pharyngula
Political Animal(K.Drum)
The Poorman
Progressive Gold
Right Hand Thief
Rising Hegemon
Roger Ailes
Rude Pundit
Rumproast
Sadly, No
Seeing The Forest
Shakesville
Sisyphus Shrugged
Skippy the Bush Kangaroo
Slacktivist
SteveAudio
Suburban Guerilla
TalkLeft
The American Street
The Left Coaster
The Road To Surfdom
The Sideshow
The Talking Dog
The Talent Show
Tom Tomorrow
Tom Watson
Whiskeyfire
UggaBugga
Wampum
Wonkette
World O'Crap
---
TOSS ME
A BONE
Amazon Wish List
---
---
SOURCES
MSNBC
CNN
The Washington Post
Media Matters
The New York Times
The Guardian
Yahoo News
Salon
The Raw Story
Common Dreams
Media Transparency
The Nation
Alternet
Joe Conason
Talking Points Memo
---
THE VAST WASTELAND
Captain Corndog & Friends
Cheerleaders Gone Spazzy
80% True
Corner of Mediocrity and Banality
Village Idiots Central
Darwin's Waiting Room
News for Mouthbreathers
---





Mailbox


Your e-mail may be reprinted sans name and e-mail address. Think about how stupid you want to appear.





---
Blogroll Me!
---
---
Site Feed



Thursday, January 11, 2007

The Quisling from Stamford



Holy Joe:

Sen. Joe Lieberman, the only Democrat to endorse President Bush's new plan for Iraq, has quietly backed away from his pre-election demands that the White House turn over potentially embarrassing documents relating to its handling of the Hurricane Katrina disaster in New Orleans.

Lieberman's reversal underscores the new role that he is seeking to play in the Senate as the leading apostle of bipartisanship, especially on national-security issues. On Wednesday night, Bush conspicuously cited Lieberman's advice as being the inspiration for creating a new "bipartisan working group" on Capitol Hill that he said will "help us come together across party lines to win the war on terror."

But the decision by Lieberman, the new chairman of the Senate Homeland Security and Governmental Affairs Committee, to back away from the committee's Katrina probe is already dismaying public-interest groups and others who hoped the Democratic victory in November would lead to more aggressive investigations of one of the White House's most spectacular foul-ups.

[...]

Still, Lieberman's more accommodating position is likely get more attention, especially because of the Connecticut Democrat's increasingly close relationship with the White House. No sooner did President Bush finish his speech Wednesday night than Lieberman put out a statement applauding Bush for his "courageous course"—a notable comment, given the lukewarm response the president's speech received from many leading Republicans.

The "bipartisan working group" on national-security issues that Bush cited in the speech was inspired by a proposal that Lieberman and Maine Republican Sen. Susan Collins made late last year. The plan: to have top committee chairs and ranking members meet regularly with the White House, according to Marshall Whitman, the chief spokesman in Lieberman's office. Whitman says Lieberman is trying to take on the role that Henry (Scoop) Jackson played in the 1960s and 1970s—a tough "national security" Senate Democrat who was willing to cross party lines to work closely with Republican presidents like Richard Nixon and Gerald Ford. "That's the tradition he is following," Whitman said.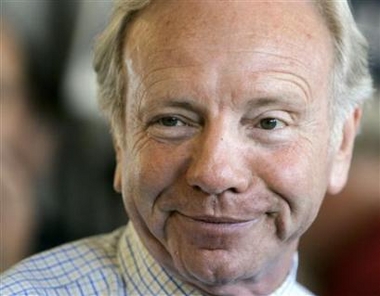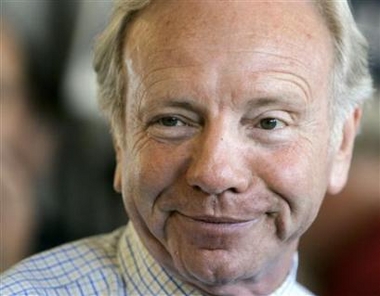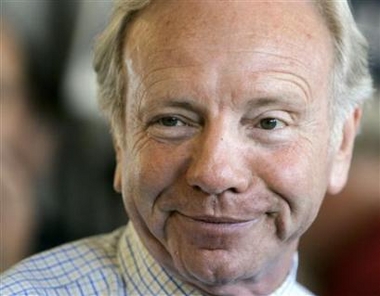 Heckuva job, Joey.