---
Faithful husband, soccer dad, basset owner, and former cowboy
Return to TboggHomePage
---
FELLOW TRAITORS
*The Nether-Count*
100 Monkeys Typing
Ain't No Bad Dude
Alicublog
Americablog
American Leftist
Attytood (Will Bunch)
Bad Attitudes
Balloon Juice
Better Inhale Deeply
Bitch Ph.D
Bloggy
Bob Harris
Brilliant At Breakfast
BusyBusyBusy
Byzantium's Shores
Creek Running North
Crooked Timber
Crooks and Liars
Cursor
Daily Kos
Dependable Renegade
David Ehrenstein
Democratic Veteran
Dohiyi Mir
Down With Tyranny
Echidne of the Snakes
Edicts of Nancy
Elayne Riggs
Eschaton (Atrios)
Ezra Klein
Failure Is Impossible
Feministe
Feministing
Firedoglake
First Draft
Freewayblogger
The Garance
The Group News Blog
Guano Island
Hairy Fish Nuts
Hammer of the Blogs
Hullabaloo(Digby)
I Am TRex
If I Ran the Zoo
I'm Not One To Blog
Interesting Times
James Wolcott
Jesus' General
Jon Swift
Juan Cole
King of Zembla
Kung Fu Monkey
Lance Mannion
Lawyers Guns and Money
Lean Left
Liberal Oasis
Main & Central
Majikthise
Making Light (Nielsen Hayden)
Mark Kleiman
Martini Revolution
MaxSpeak
MF Blog
MyDD
Needlenose
The Next Hurrah
Nitpicker
No More Mr. Nice Blog
Norbizness
Norwegianity
Oliver Willis
One Good Move
Orcinus
Pacific Views
Pam's House Blend
Pandagon
Pharyngula
Political Animal(K.Drum)
The Poorman
Progressive Gold
Right Hand Thief
Rising Hegemon
Roger Ailes
Rude Pundit
Rumproast
Sadly, No
Seeing The Forest
Shakesville
Sisyphus Shrugged
Skippy the Bush Kangaroo
Slacktivist
SteveAudio
Suburban Guerilla
TalkLeft
The American Street
The Left Coaster
The Road To Surfdom
The Sideshow
The Talking Dog
The Talent Show
Tom Tomorrow
Tom Watson
Whiskeyfire
UggaBugga
Wampum
Wonkette
World O'Crap
---
TOSS ME
A BONE
Amazon Wish List
---
---
SOURCES
MSNBC
CNN
The Washington Post
Media Matters
The New York Times
The Guardian
Yahoo News
Salon
The Raw Story
Common Dreams
Media Transparency
The Nation
Alternet
Joe Conason
Talking Points Memo
---
THE VAST WASTELAND
Captain Corndog & Friends
Cheerleaders Gone Spazzy
80% True
Corner of Mediocrity and Banality
Village Idiots Central
Darwin's Waiting Room
News for Mouthbreathers
---





Mailbox


Your e-mail may be reprinted sans name and e-mail address. Think about how stupid you want to appear.





---
Blogroll Me!
---
---
Site Feed
Tuesday, November 07, 2006
Suddenly nobody is talking about John Kerry anymore...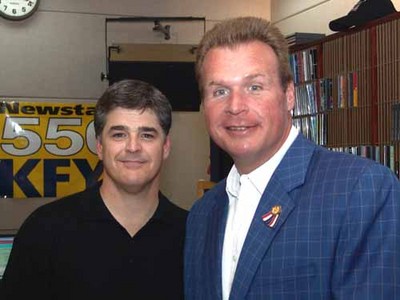 400 pounds of dumbass

The California election scene was fairly boring this cycle with uninspiring candidates abounding. It's hard to believe that a state full of the most image conscious people in the country could have so many dull unappealing politicians. Maybe it's because all of the witty, intelligent, good-looking people are too busy in Hollywood...or blogging. One of those.

And so we turn our lonely eyes to the rest of the country that, truth be told, we would just as soon fly over if you don't mind, thank you very much...

Obviously I am thrilled that America's Stupidest Congressman* JD Hayworth is going to have to go back to broadcasting high school football games since we already have a National Mexican Hater in place. Maybe he can work in the minors; standing on sidewalks and screaming at Taco Bells. Also in Arizona, gubernatorial not-even-close Len Munsil isn't going to be needing any new business cards and should now have lots more time to "do it" with his wife, more proof that you should never let your career aspirations get in the way of your hobby.

I'm very surprised that Jim Ryun (Kansas-02) was kicked to the curb (regardless of his shady real estate deal), but not so surprised that all the women-beaters (Fine - MN , Sherwood - PA, Sweeney - NY) found out that

Smack My Bitch Up

doesn't work well as a campaign slogan. I don't know what the hell John Hostettler (IN-08) did to only receive 39 % of the vote, but it had to be along the lines of grunting while strangling puppies during the debates and then throwing their limp floppy bodies at his opponent. What works for Dick Cheney doesn't necessarily play in Peoria.

Musgrave (CO-04) looks like she's going to survive and will have a kindred Godsmacked spirit in Michele Bachman (MN-06) to caucus with (in tongues, we assume), so we can expect lots of faith-based gay hatin' from the fringes this Congress. Also in Minnesota, Keith Ellison (MN-05) won and here's hoping that he calls John Hinderaker every morning at about 3AM and shouts "Allah Akbar" and then starts giggling like a madman. Good fun...

As I mentioned earlier today, a few Congressmen under clouds survived (Lewis CA-41, Renzi AZ-01), but I wouldn't be writing anyone's name down in ink on your Congressional scorecard just yet. And we still haven't seen the end of the Foley scandal, particularly with the Democrats holding the big stick.

And this just in...McCaskill wins in MO. Now Rush Limbaugh has the shakes...

Jesus. What a slaughter. Bush to attempt to put a positive spin on it tomorrow. That's it for now. Gotta make plans to start harvesting stem cells from Mary Katherine Ham's future babies so I can clone me some Muslims...

*The Stupidest Congressman tiara and sash are now passed to Lynn Westmoreland of Georgia-3

May he not strangle himself trying to put them on...